Press Release
August 28, 2020
Hotel Meals from Winford on Wheels
After nearly six months of enduring various quarantine acronyms, the coronavirus pandemic (COVID-19) continues to plague our nation and batter the economy, forcing thousands of businesses to fold while leaving record numbers of Filipinos unemployed.
Not a single industry has been spared by this unprecedented global crisis, and although a handful of them may suddenly be thriving because of it, the vast majority find themselves struggling to stay afloat in these uncharted waters.
Winford Manila Resort & Casino (Winford) is no exception, owing to the fact that its primary business is in travel and tourism—arguably the worst hit sector by the pandemic. It is just one of the myriad hotels in the National Capital Region forced to temporarily halt operations in an effort to flatten the so-called curve.
Determined to not become a COVID casualty, however, an inspired Winford team singled out an opportunity to maximize its resources and move forward—while fully complying with government orders.
Just recently, the luxury casino hotel launched a new food delivery service called Winford on Wheels. Its primary target market is corporate groups or employees of at least 20 people or more, who are looking for variations on their usual canteen meals or packed lunches. At only PHP180 nett per order, the value proposition on offer is quite simply summed up as, "luxury hotel comfort food at an affordable price".
"The idea for Winford on Wheels was first inspired by the dozens of inquiries we have received from our patrons asking if we offer a food delivery service," explained Jeff Evora, Preisdent & Chief Operating Officer, WMRC.
"Apparently, they have been longing for some of the dishes we cook up at Winford and so in a way, this is actually their brainchild. From there, the concept evolved further and we felt a need to also serve other markets, such as a variety of tasty dishes for different corporate offices and various employees. Based on these insights, we proceeded to craft a menu that would appeal to all segments," concluded Evora.
Included in the Winford on Wheels delivery menu are Filipino favorites such as crispy pork binagoongan with mangga, lechon kawali with ensaladang mangga, chicken adobo confit with hard-boiled egg, and escabeche bangus belly. Popular international dishes like beef stroganoff, garlic pepper with mushroom gravy, pineapple pork humba, chicken schnitzel with coleslaw, fish fillet with tartar sauce, and roast pork pepper mushroom sauce complete the lineup of mouthwatering cuisine delivered from WMRC's kitchen straight to your front door.
To order, interested parties may call the WMRC hotline at (02) 8528 3600, or send a text message to 0917 878 8670 or 0917 872 8583. Delivery is available within Metro Manila provided orders are placed two (2) days before the desired delivery date.
CONTACT:
JOSE MARIA "JAMI" CRUZ LEDESMA
Director for Corporate Communications
M: 0920 920 7846
T: 528-2300 loc. 1138
jami.ledesma@winfordmanila.com
###
May 21, 2020
Life in the time of COVID-19: Heroes of the Hospitality Industry
By Jami Ledesma
Now on its third month of temporary shutdown in compliance with the government's enhanced community quarantine (ECQ) directive to prevent the spread of the COVID-19 virus, Winford Manila Resort & Casino (WMRC) finds itself in a predicament shared with other hotels in the country.
With an estimated 70-80 percent drop in foreign tourism in the next 12-18 months, the recovery period faced by the travel and tourism industry will undoubtedly be long haul.
As WMRC and other hotels find their footing to make the necessary adjustments throughout this quarantine phase, the pandemic has certainly made one thing clear: when WMRC eventually reopens its doors, its guests will be counting on the casino hotel to effectively carry out "new normal" operational guidelines set out by the management team.
This is where the hotel's front liners come in; the wait staff, the porters, the sanitation crew—it is they who will come into close contact with customers on a daily basis in the post-pandemic era to ensure that their stay is not only a pleasant one, but also safe and virus-free.
Recognizing the importance of their roles, WMRC has succeeded in maintaining a zero percent attrition rate since the government's implementation of ECQ. In fact, all regular employees of the company have kept their jobs and continue to get paid as the entire country waits for definitive news from health authorities that mass testing is being carried out, until the so-called "curve" has been flattened.
"When we reopen, it will be business not as usual," said Jeff Evora, President and Chief Operating Officer, WMRC. "We will be in a different 'low touch' world, shaped by new habits, processes, and regulations based on reduced contact interaction, travel restrictions, and hygiene concerns."
Indeed, WMRC prioritizes the safety of its guests and employees, now more than ever before. The casino hotel has been proud partners of ECOLAB, the global leader in hygiene technologies that protects people and resources, since long before the pandemic. Through this partnership, guests can always expect only the highest disinfection standards in the industry to keep their health and wellness above everything else.
"In order for us to execute our health and sanitation plans effectively, we are retaining 100 percent of our regular employees whom we have trained and continue to train in preparation for our reopening, once the authorities give us the go signal. Our lives and livelihood are at stake, hence we cannot rest on our laurels and simply hope for the best. That is why we are keeping our staff and doing all we can to take care of them, because ultimately, it is they who will properly ensure the safety of our guests," added Evora.
With international arrivals in the Philippines looking lower than usual for the rest of the year, WMRC hopes to leverage on local and domestic visitations until confidence in foreign tourism returns. No doubt, many Filipinos will need a vacation from this "vacation", but will also be hard pressed to afford the expenses that come with it due to the recession brought about by the pandemic.
With this in mind, WMRC's management has decided to support more homegrown businesses by contracting local suppliers to help boost the economy as the company turns to Filipinos to stay at their property as well. WMRC has several promotions in the pipeline that it hopes can play a significant part in enticing people to return to life as they once knew it, with new regulations firmly in place.
Should the company succeed in doing that, not only would it be a boon to local tourism, but also a triumph for WMRC's wait staff, porters, and sanitation crew who, collectively, make up the new group of heroes of today's hospitality industry.
###
April 22, 2020
Life in the time of COVID-19: The First 30 Days of ECQ
By Jami Ledesma
Since temporarily halting its operations in compliance with the government's enhanced community quarantine (ECQ) directive to prevent the spread of coronavirus (Covid-19), it has been business as usual for luxury hotel Winford Manila Resort & Casino (WMRC)—albeit from the safety of management's homes.
With the property closed since March 16, along with virtually all hotels and businesses in Luzon, WMRC's executive committee found itself in unchartered waters, paddling against a strong current of challenges and crippled by the occasional undertow of uncertainty.
With business on hold for the time being, the safety of WMRC's employees and third party contractors was first on the agenda. A "work from home" arrangement was quickly implemented for managers and directors, while an in-house skeletal workforce for security and engineering personnel was promptly effected to oversee the maintenance of the 22-story property.
Throughout the ECQ period, all WMRC employees continued to receive full compensation and healthcare benefits. Quite like an unwritten brand manifesto, the company implored its personnel to heed the advice of health authorities, refrain from unnecessary outdoor exposure, and stay home at all times.
"I could not stress enough the importance of social distancing and wearing a face mask during a pandemic like this and made sure that the management team cascaded this to their subordinates before sending them to the safety of their homes," said Jeff Evora, President & Chief Operating Officer, WMRC, during a phone interview.
"If you catch the virus from one person, it's easier for your body to fight it than if you become infected from several people. That's why it's so important to not just stay at home, but to stay put. By keeping your viral load to a minimum should you become infected, you give your body a better chance of recovering, as long as you isolate. That said, temporarily closing the hotel was an obvious decision for everyone's safety."
Although it has been more than a month since Winford's close-knit family has assembled for their weekly meetings in Evora's office, the wonders of technology have allowed them to continue running the business and planning for the future, remotely.
"We continue holding our regular operations and executive meetings online through video conferencing, not just to provide each other with updates and ideas, but also to keep the team spirit alive during these strange times. We even have an ongoing face mask challenge wherein all of us are invited to post a selfie wearing a mask on social media, just for fun and awareness," said Evora.
"My team and I like to keep things light when we are physically together at the office and that hasn't changed during our virtual meets these days. If we're not discussing future sanitation plans or the risk of IT malware, we find ourselves joking about each other's overgrown hair or weight gain as a result of this extended quarantine."
Speaking of sanitation, WMRC continues to thoroughly disinfect all areas of its property on a regular basis and is prepared to take things to the next level once it is safe for businesses to reopen. Much of its health practices are replicated from the Center for Disease Control guidelines of the United States. Even leftover garbage in the property that is due for collection is disinfected in an effort to prevent any bacteria from spreading.
Last April 18, Evora, sporting hazmat headgear and face mask, stepped out of his home to assist with the turnover of 9,000 food packs to residents of Manila which were received by Manila Mayor Isko Domagoso Moreno himself.
The donation was made by the Resorts World Philippines Cultural Heritage Foundation Inc. (RWPCHFI) and the Philippine Amusement and Gaming Corporation (PAGCOR), with an additional 6,000 food pack donation on the way.
Although WMRC's doors remain temporarily closed, one thing is certain: its management team continues to work around the clock, from home, so that when the time comes for business to return to normal, guests can rest assured that not just the warmest of welcomes await them… but a clean and safe experience as well.
###
May 28, 2019
The Merovingian exclusive book launched at Winford Manila

The Merovingian: a stirring tale of history, faith, and fantasy
Manila, Philippines - Filipino-Australian writer Renato Clarete Tranquilino, together with his co-author and PR practitioner Zahara Depaling, launched their debut novel, The Merovingian, at Winford Manila Hotel and Casino (WMRC) in Santa Cruz, Manila.
Present at the book launch along with Tranquilino and Depaling were Digital Artists Niel Santiago and Neil Cutter, and WMRC President & Chief Operating Officer Jeff Evora.
"The Merovingian takes nuggets of world atrocities, portions of various religious faiths, then weaves them into a different yet familiar tale of magic and fantasy," said Tranquilino. "What ensues is our take on the never-ending battle between good and evil in a fictitious yarn made out of non-fiction elements such as Nazi Germany, Filipino historical sites, and Philippine politics; and hypothetical elements such as Christ's bloodline, the mythical Biringan City, and aswang creatures, among others."
"I am not a fan of fiction. The start gripped me only on account of displeasure reading how my Lord Jesus is about to be the topic of yet another blasphemous book," said Christine, a dentist and a devout Catholic. "I read it to the end but surprisingly, it was not the unholy book I thought it would be. It is a historical, adventurous, humorous-borderline-satirical fight between good and evil read; clearly, the result of a collaboration between creative, well-informed minds—seemingly the authors' and their splits."
"Not another Dan Brown, nor another J.K. Rowling. Difficult to shelf, so we could be looking at a new genre in literature, of which finding a label would be a challenge," she added.
Tranquilino said that the book was supposed to be a script until budget got in the way. Before that, he presented The Merovingian to actress Garie Concepcion who fell in love with the story and wholeheartedly supports the novel. Tranquilino then reached out to his co-author Depaling, who was also an actress in his 2016 short-film, An Unstable Reality, and brought to the table her equally vivid imagination.
"There is a thin line between the real and the unreal," said Depaling. "We've created The Merovingian knowing that there will be mind-doors to tap. It is a book that puts Filipinos back in touch with their roots and will remind them of childhood treasures; your tikbalang-binisayaun slang kind of story that you will thoroughly enjoy."
Inspired by the positive feedback, the authors then transformed the script into a book, offering fiction enthusiasts a peak into their creative minds, culminating with a book launch held at a luxury casino hotel that brought together culture, arts, and literature over one summer evening.
"Winford Manila Resort & Casino is fully committed to supporting Filipino artists and literature," said Evora. "In fact, this is the second arts-related event that we are proud to host this month; the first being the Nick Joaquin Literary Awards last May 15. Witnessing both the caliber of work on display by these budding poets and novelists goes to show that the Filipino truly is world-class."
Based in Manila and an IT professional by day, Tranquilino was born to Filipino parents and spent much of his life in Australia. He has always shown an interest in sci-fi fantasy films, short stories, and online games like League of Legends. The Merovingian is their first offering as a novelist, a project over two and a half years in the making, and one that he largely credits J.R.R. Tolkien, Terry Brooks, Lino Broca, and Budjette Tan as his sources of inspiration.
Co-author Depaling, who was born and raised in Cebu, Philippines, and is of mixed Arab ancestry, infused her expertise on theater direction, character build-up, and linguistics on the book. Apart from her love of arts, she works as a public relations officer. Her inspiration comes from the roots of her native land and theatrical perspectives.
People were able to engage with the authors, get their book signed, receive their limited-edition bookmarks, join raffles, and more. Copies of the book are available for sale at WMRC. If you would like a copy, contact their FB official Page @Merovigianthebook.
CONTACT:
JOSE MARIA "JAMI" CRUZ LEDESMA
Director for Corporate Communications
M: 0920 920 7846
T: 528-2300 loc. 1138
jami.ledesma@winfordmanila.com
###
January 6, 2016
Winford Hotel opens at the heart of Greater Chinatown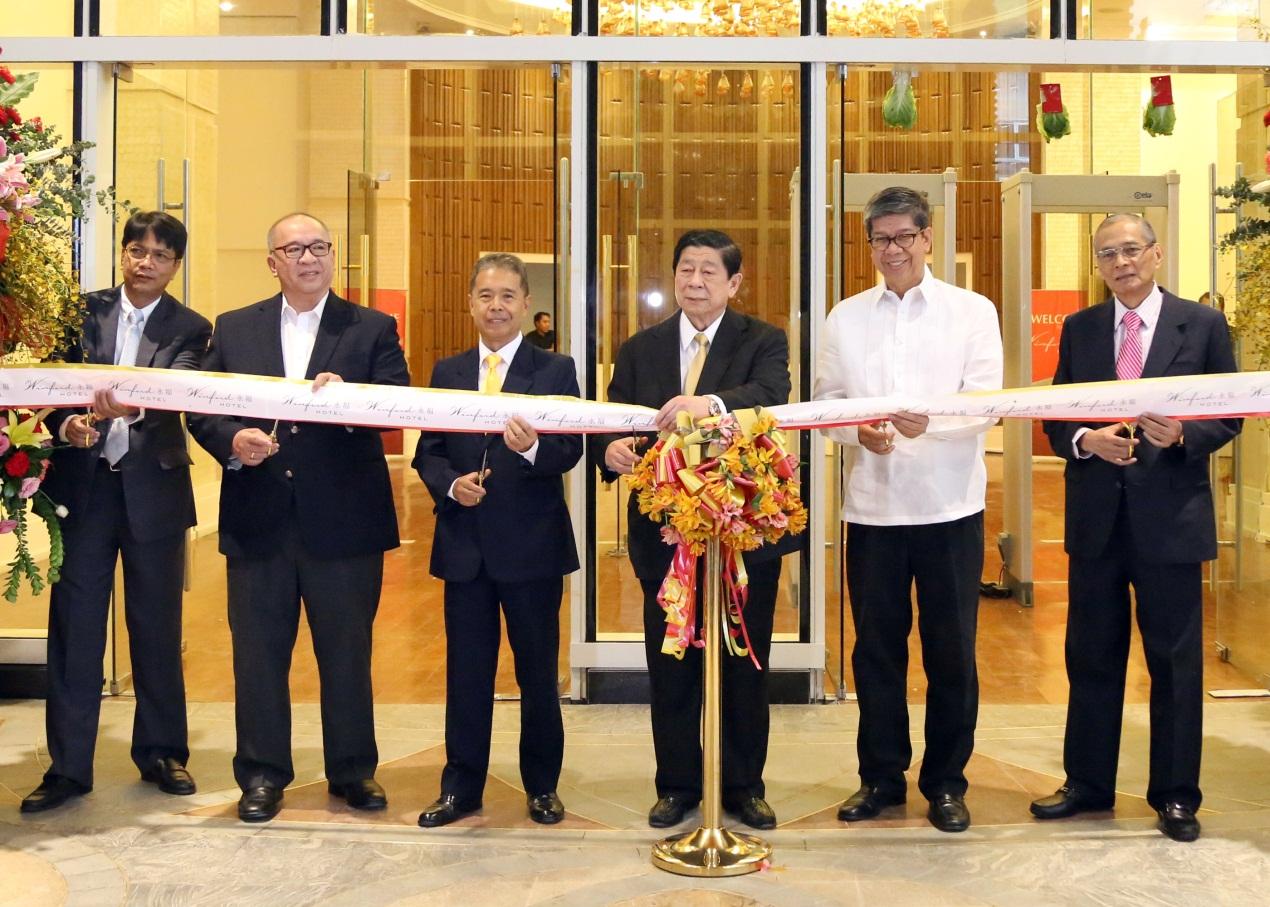 Caption: Leading the ribbon cutting ceremony during the launch of the new Winford Hotel were MJC Investments Corporation (MIC) Chairman and CEO Atty. Alfonso R. Reyno, Jr. (4th from left), Philippine Amusement and Gaming Corporation (PAGCOR) President and COO Hon. Jorge V. Sarmiento (5th from left), and MIC Chief Financial Officer Jose Alvaro D. Rubio (3rd from left). Also part of the ceremony were (from left) PAGCOR Branch Manager William Avendano, PAGCOR Director Eugene D. Manalastas, and Independent Director Atty. Victor P. Lazatin.
Primaries of the MJC Investments Corporation (MIC), along with representatives of the Philippine Amusement and Gaming Corporation (PAGCOR), today launched its newest project, the Winford Hotel at the San Lazaro Business and Tourism Park in Santa Cruz, Manila.
Present during the launch were MIC Chairman and Chief Executive Officer Atty. Alfonso R. Reyno, Jr., Chief Financial Officer Mr. Jose Alvaro D. Rubio, Vice President Atty. Alfonso Victorio G. Reyno III and Independent Director Victor P. Lazatin, together with PAGCOR President and COO Hon. Jorge V. Sarmiento, PAGCOR Director Eugene D. Manalastas, PAGCOR Branch Manager William Avendano and PAGCOR Casino Operations Manager Eduardo Arambulo.
PRESS INFORMATION
Currently the only luxury hotel, entertainment, and tourism hub in the Greater Chinatown area, Winford Hotel offers five-star international branded accommodation within its 7,500 square meter, 22-storey high-rise development. The property boasts of 128 deluxe hotel rooms, an expansive podium that houses high-end restaurants, a column-less 1000+ capacity ballroom, over 900 parking slots and over 9,000 square meters of internationally designed indoor entertainment space. The development marks the first-ever construction of a five-star hotel and high-end entertainment project in the heart of Greater Chinatown. The hotel's entertainment hub offers luxury accommodations, meetings and event facilities, and innovative entertainment concepts to serve the expanding Chinese and Filipino-Chinese communities in central Mega Manila.